24 STEPS TO SUCCESS!
Disciplined Entrepreneurship offers a comprehensive, integrated, and proven step-by-step approach to creating innovative, highly successful products. It focuses on the iterative process that merches you toward that optimal, elegant solution – the foundation for your whole business. Wheter you're creating a physical good, a service, or the delivery of information, Disciplined Entrepreneurship breaks down the necessary process into 24 steps that any industrious person can learn.
Yes, entrepreneurship can be chaotic, but situations that are innately unpredictable require a systematic framework that allows you to reduce your risk by identifying and addressing areas that you can control. The process outlined in this book can help ensure your success – or it can help you fail faster, if failure was already inevitable, and move you on to a better idea. This step-by-step guide to creating a new venture shows you how to:
Create valuable specificity by focussing on one market opportunity that you can dominate
Quantify the unique value you bring to your target customer – and how to translate that value into profit
Design and build your product in the most efficient way possible
Overcome common obstacles in getting your product adopted by customers
Identify and test key assumptions
And much more!
As the world becomes more complex and the problems become more urgent, the need for entrepreneurs will only grow. This framework will allow intrepid entrepreneurs to quickly and efficiently iterate their way toward the best solutions. Whether you're a first-time or repeat entrepreneur, Disciplined Entrepreneurship offers the tools you need to improve your odds of making a product people want – and need – to buy.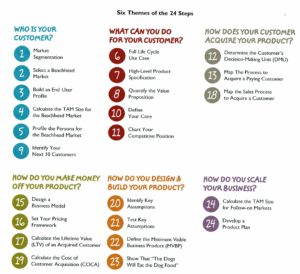 HOW TO IMPLEMENT?
Innopush Sàrl will help you in your new venture using a step-by-step methodology. Why re-invent the wheel when successful entrepreneurs have demonstrated what approach works best. Together, we will identify the best process that applies to your innovative project, and then we will guide you through it and facilitate Phases and Gates in a collaborative way.